FOR A BAD ASS WORKOUT YOU NEED KICK ASS ENERGY
Your weapon can be ANYTHING! Is it your unrivaled motivation? Is it your sheer confidence? Is discipline your greatest weapon? Whatever your ultimate weapon may be, we want to help you harness that energy and take it to unprecedented heights. Shiruken Energy combines proven ingredients to provide unrelenting energy and lazer-like focus to get you through any powerful workout.
Crafted by the Best – So You can Perform at Your Best!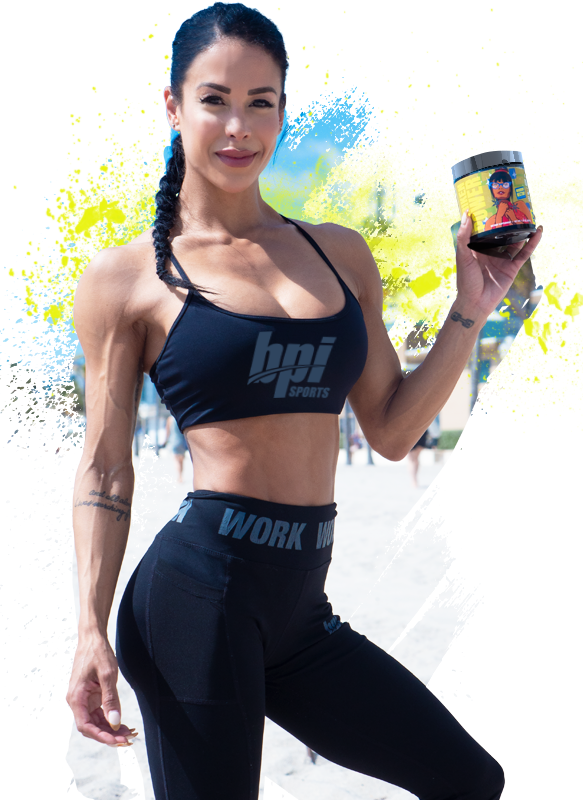 Starting off her career as a Police Officer in South Florida India was a natural defender and protector of rights. Her passion for the thin blue line led to her love of tactical sports where fitness, physical and mental strength as well as accuracy in firearms is what's needed to come out on top. She competed in her first tactical fitness competition in late 2021 and won 1st place. Although India found a new sport to work hard towards, India didn't give up her first love of bodybuilding. Currently, she's back on top of the Women's Bikini Division looking to make a run at this year's Mr. Olympia Competition in Las Vegas, NV – the sport's biggest event!
When India started getting familiar with the NFT Space to launch her new supplement project, she wanted to own a piece that represented her true beliefs. "Women and Weapons" with creator Sarah Baumann was the perfect image of what she truly was passionate about. Baumann launched W&W in October 2021 with a collection of 10,000 multicultural women NFTs. The 200+ attributes that make up these assets were all hand-drawn by Baumann herself. The inspiration behind the collection champions women and the courageous actions they take daily to combat adversity, regaining control with a Rosie the Riveter-inspired style. India loved that and wanted to spread that empowering message while also helping women achieve their goals in fitness by providing the perfect amount of energy to get it done.